Malta Diving with Bezz Diving Malta!!
Malta diving best experience!. With an easy access to some of the best spots for scuba diving in Malta, Bezz Diving Malta (situated in Mellieha Bay) is one of Malta's newest dive centers in the island. We offer PADI & SSI courses, together with daily diving trips for certified divers. We are located just minutes away from the sister island of Gozo, where diving just gets better, thus we can offer you the best diving services and also great knowledge about the wrecks in Malta.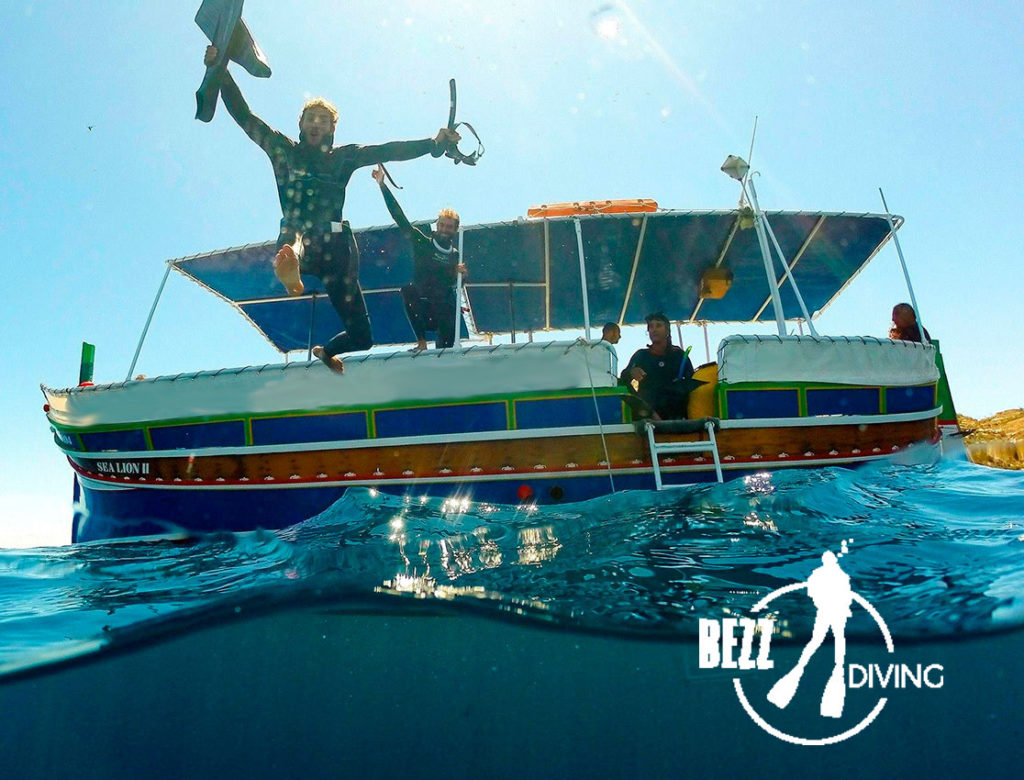 We focus to work in a safe environment, keeping in mind also that you are here to enjoy your scuba diving experience in Malta with us and we will just add a personal touch to our service to make it the best possible for you. Our diving groups are small to ensure you the best experience diving in Malta by young and friendly instructors.
Bezz Diving center is equipped with very well-maintained scuba diving equipment for our clients and also with a brand new diving compressor to fill your air. In this website you fill find information about us, our diving courses, our diving packages for certified divers and also other help with your organization of the diving trip to Malta.
OUR TEAM
Most of our staff started as customers and just kept coming back because they love Bezz so much. Some of them their changed their lives completely to come and live in Malta to work with Bezz. For us, it is proof that we are doing things quite well. They are defInitely evidence that we make diving your passion!
DIVING IN MALTA
Malta's wrecks, caves and reefs make us one of the top destinations for divers in Europe. Our best feature is incredible underwater visibility, on average, around 30 meters. When you arrive at the massive Um El Faroud and it appears in front of you clear and huge, believe me, that's awesome. It takes our breath away every time and keeps us enthusiastic about our fantastic dive sites.
Malta has one of the longest summers in Europe, stretching from April to November. The average annual sea temperature is 20 °C, probably the highest annual water temperature in the whole of Europe, reaching 26 °C in August and exceeding 20ºC from June to November.
THE DIVE CENTRE
We go diving every day during the high season. Normally, daily trips consist of two dives and the majority of them are from shore. Every week we go to Gozo at least once, traveling by ferry in the van. Almost every week we go diving on Comino, and we spend the day aboard a Luzzu boat. What makes this such a great experience is being able to visit the Blue Lagoon for lunch and appreciate the beauty of this little island from a traditional maltese boat.
DIVE SITES
As you can see on the map, Malta is full of underwater treasures. The majority of them are wrecks or deep dives, so if you are planning to dive for more than two days, we highly recommend you take either the Advanced, Deep Specialty or Wreck Specialty course. From beginners to advanced divers, we offer a bespoke experience, making sure each diver gets the attention they require. Check out our dive sites to see what excites you the most.
DIVING MEMORIES
Maltese waters are renowned for shipwrecks, but there are other interesting things sunk beneath the waves. The Statue of Christ and the WWII Bristol Beaufghter plane are among the best dives in the north of Malta. We are working on a series of videos called 'Beauties of Malta'.
RECOMMENDED ACCOMMODATION
Recommended to divers and travelers looking for a special stay in Malta. Splendid Guesthouse tastes different from the very first minute. This quaint little guest house has ten rooms, all equipped with comfortable beds, ceiling fans, shower & sinks, free WI-FI and complementary continental breakfast. Situated in the core of the picturesque village of Mellieha, in the North of Malta, very closed to Bezz Diving.