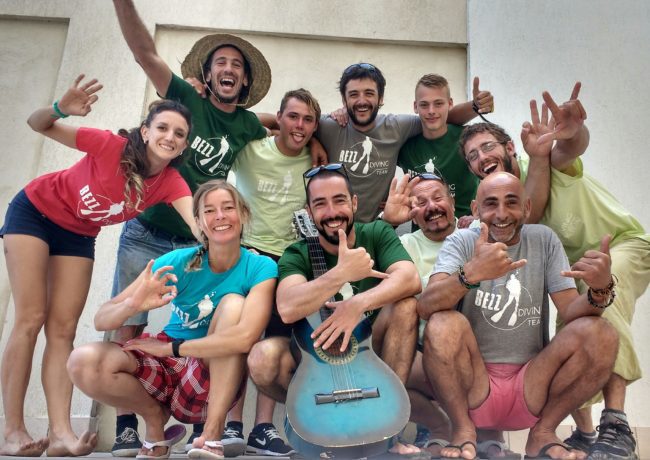 I remember clearly when Bezz Diving was about to open its doors on the 12th of June 2012. I had been travelling for 6 years and then decided to come back home to Malta. I knew back then that I wanted to dive as a profession but I never imagined that 5 years later I would be living my dream and sharing it with the amazing Bezz Diving family.
The first year was successful with the help of Victor Twose and then later on Cristian Saura joined us. Who would have told us that me and Cristian had to share another 4 years of our lives working together since then, building a special friendship and sharing dreams and goals in our lives. We wanted to run a dive centre together with a different atmosphere where clients could feel at home. We would happily take them diving around the Maltese islands, show them the best local beaches and making their holidays in Malta unforgettable.
Then in 2013, the family started growing. We wanted to train Divemasters so they could stay with us, homegrown and organic:-) Thats when my best buddy/friend/brother Dieguito joined us and the whole project started taking shape. Dieguito completed his Divemaster course with flying colours, then became a PADI instructor in 2014 and now he is the Dive Centre Manager three years later. We share the same vision towards diving, its a passion that we want to share with you. He is the friendliest person I ever met and we still have some common ambitions/dreams that we want to achieve together very soon.
Since then, Bezz Diving became a place that changed many people's lives. We continously ask ourselves: "Are you living your dream?" We weren't meant to be office people, we chose to move our office to the sea!!
Dani had arrived as a client in 2013 as well, became a Divemaster at Bezz Diving in 2015, quit his job, became an SSI instructor and now spends summers with us in Malta and travels around the world in winter.
Tess had a similar story: arrived as a guest in 2014, returned in 2015 to do her Divemaster course and since then she has quit her job, moved to Malta, became a PADI instructor and now fills the dive centre with lots of love, serenity, amazing hugs and smiles. Super Tess!!
Then then came Eneko…in 2015 he came to do his Open water course at Bezz Diving. In 2016, he returned to make his way up as a Divemaster, went back home to quit his job and now in 2017 he is teaching PADI and SSI courses at Bezz Diving. El vasco is a big man but his heart is the biggest!!!
Clyde liked the looks of all this and when I told him that I would like more Maltese blood at Bezz Diving, he immediately quit his job, started his PADI Divemaster and now he is ready to get certified and start guiding you around in summers and keep on travelling the world in winter.
And then every August we receive Oriol. Same story; arrived as a client in 2012 and returned every year since then to spend every August helping out as a Divemaster at Bezz Diving but this year he is an instructor!!!
Julietta has also been helping for many years at Bezz Diving but now she is more active with us as the Office Manager.
Its easy to understand why we call it the Bezz Diving family now: we work together, we share long daily hugs, we rockclimb together in our free time, we travel the world and go to festivals together and we share the same philosphy in life: GOOD KARMA!
I would also like to mention some other people that were involved at Bezz Diving during these 5 years as well: David Ortiz, Miguel Perez who still comes back, Kevin Causon, Simon Bonte, Pawel Kopec, Steve Clarke, Franca, Jimmy, Jamie, Sara, Ana Faycal, Scuro, Javato, Fiona and now we also have Mikey and Ray onboard with us!!!
5 years of happy times for which we should THANK YOU for your support. Many clients still come back every year. Alex from ZOEA has been to Bezz Diving 11 times in 5 years for example. Or our Scott, also coming for 5 years in a row! The dive centre has seen many nice changes as well, many improvements that have made our work even easier every year. Look at these photos of 2012: 
And now Bezz Diving looks like this:
We are all excited for another 5 years of diving and fun, hope to see you soon and…
HAPPY BDAY BEZZ DIVING!!!!