And this is what Super Tess has been up to this winter away from Bezz Diving
"After a wonderful season with the Bezz family, it was hard to move back to the cold of a UK Autumn. Jamie had planned a holiday to make the transition easier, so as soon as I landed, it was time to pack for a motorbike trip through France, Spain and Portugal.
We spent a night in Paris then made our way down to the French Alps. We had some very cold nights camping, but it was worth it to wake up to the spectacular views in the morning. When we arrived in Barcelona, more of the Bezz family was waiting and we were welcomed by Oriol and Sarah… big hugs!!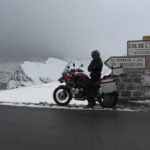 Valencia was the half-way point of our trip. We arrived just in time for the final round of the 2015 MotoGP (motorcycle grand prix). Seeing the talent of the riders was a real high-point of our trip. Jamie and I then rode on to Seville and Gibraltar, then up to Lisbon, and back into Spain. We finished the trip on the ferry from Santander to Portsmouth. It was lovely to watch dolphins racing out to the ferry to play in the bow waves.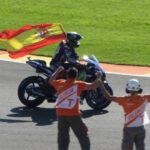 We finished our time in England by reducing our possessions to just what we could carry in a couple of backpacks, ready for the next stage of our adventure. We left England on a cold wintry morning and flew to Bangkok. After a couple of days adjusting to the blissful warmth and new time-zone, we took an overnight bus then ferry to the Island of Ko Phangan.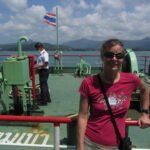 This is home until we return to Malta. Here I am a student at the Phangan International Dive School, getting more qualifications and experience, so that next season at Bezz, I can teach as well as guide. The quality of instruction here is excellent, which gives me confidence that I will be able to maintain the Bezz standards. We do have fun divers who come along for the daily boat dives to Sail Rock, and my navigation skills have improved immensely from diving in the extremely low visibility which we are experiencing on the island right now.
The underwater life here is amazing; I have seen glimpses of giant groupers and potato cod, a variety of colourful nudibranchs, great schools of jacks and barracudas, as well as wonderful, big hard corals and sponges. I'm really hoping the visibility improves before we leave so that we can appreciate the full richness of the dive sites.
While this is a terrific experience, I'm really looking forward to re-joining the Bezz family in a few months to enjoy the wrecks and reefs in Malta's sparkling, clear water, as well as sharing the stories from our travels and some epic big hugs!!
---
So this week it's Dieguito's turn to tell us how life is treating him this winter……
"AWESOME" he says 🙂
Some of the Bezz Diving staff went to India in search of "the light", others stayed in Malta raising up the country and "suffering" the winter and we went far away looking for the "eternal summer", as usual 🙂
With Cristian's massive help, Julietta and Diego ended up in these amazing latitudes called Maldives. What can we say? It is already breathtaking when you arrive on the plane and see this country from above.
We already knew they were going to be an amazing 5 months of non- stop diving in one of the best places in the world 🙂
After being one long week in the crazy capital Male,
We moved to our new Island, Gan in Laamu Atoll where amazing people were waiting for us.
The beginning was a bit messy as we didn't have a boat (and here without a boat, diving is not easy) but after putting a bit of pressure on the local workers soon we had our "dhoni" ready to rock and dive!
Well, what to say about diving in Maldives.. One of the best places in the world.. As soon as you jump in the water you can see plenty of sharks, friendly turtles, big schools of eagle rays, napoleon fish, school  of two hundred barracudas and so many fish that I cannot describe with words.
I think is easier for me to explain that through this 🙂

You can keep checking out the Bezzdiving's Youtube channel as I will be uloading some of the videos I am filming here 🙂
To be honest this is being one of the best experiences I ever had, it's quite nice to be able to enjoy the maldivian local life, as it's not the usual tourism of Maldives. This hotel is one of the least located in a local island where you can see the real maldivian life.
So I really recommend it if you are thinking of  a diving holiday in Maldives for a reasonable price.
http://www.reveriesmaldives.com/
Anyways, we will be rocking again altogether this summer in Malta with our straw hats and our nice music in the vans!
So we are counting down the days to see you again on the little rock!
Loads of Love and see you soon!
Diego!
Since we choose not to dive between mid December and the beginning of April, the staff at Bezz Diving are all having different experiences around the world. We will be sending you some updates from here
Bezz is currently in Kenya. He was helping out as a volunteer with the building of a classroom in a Massai community for the last 3 weeks. ''It has been an amazing experience. Its great to be inspired by the smile of the people and find a better example of how happiness is found here''
Life in Olasiti, where this Massai community is based, is not easy. Water has to be carried home and many people have to walk over 1km carrying their water . Until a few years ago there was no electricity neither but now every house has been sponsored with a small solar panel enough to light up 2 bulbs at night. Living with a local family and seeing these difficulties, Mark and Abraham bought them a donkey and walked with it around 2 hours to take it to its new home. There it will carry the water home for the whole family and we also built a fence where it can rest at night. Olasiti and the area around is the home for many wild giraffes, buffalos, haenas, leopards, digdigs and monkeys. Thus they need to keep their animals safe and the fence was something very appreciated by the whole family. Saying goodbye last Sunday was not easy at all. Leaving the community with another classroom and a family with a new means of local transport closes the first chapter for us in Olasiti. This experience was all possible thanks to a local NGO called Right2Smile that have had this project ongoing in Olasiti for the last few years with the sponsoring of the teachers' salaries and also free lunch for all children that attend school.
The next stop for Bezz will be on the coast of Kenya, on an island called Lamu. More photos and updates will be posted in the next weeks but next you will be hearing about Diego's experience in the Maldives this winter.
See you in Malta this summer!!!